Vol. 04

March 20, 2020

WHAT'S NEW

Let's face it, covid-19 and social distancing have started to heavily affect the New York we know and love. This week we've rounded up ways to keep busy by reading & moving, local businesses to support online, and our first piece of merch — with proceeds benefitting City Harvest.


COOLSTUFF.NYC FOR CITY HARVEST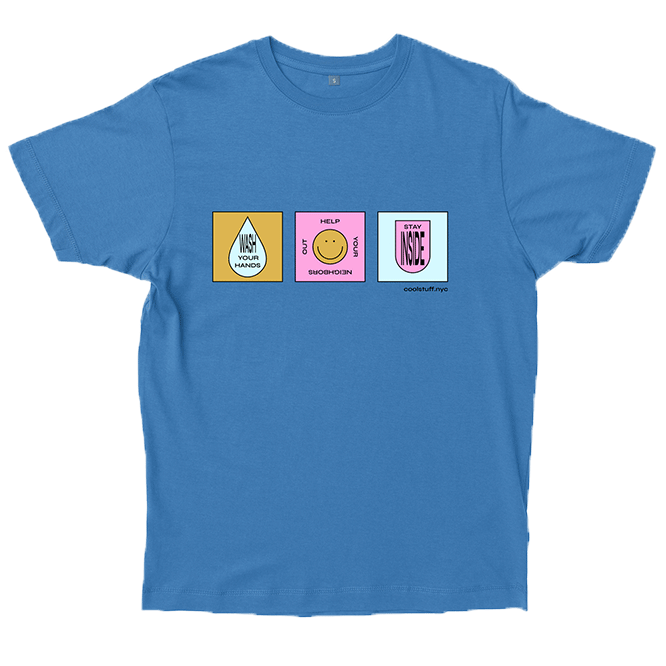 We're facing some pretty tough times in New York and across the globe. We can all do our part to help with the covid-19 crisis by staying inside, washing our hands & helping our neighbors. To offer a little extra support, we're selling this shirt with some fun social isolation graphics for the benefit of City Harvest. 100% of the proceeds will be donated, then matched in a multiple of 2 by the City Harvest board.

A little about what City Harvest is doing right now:

"The crisis in our city is urgent, and we are stepping up to rescue and deliver more food to meet the need. Our trucks will continue to be on the road, and we will work hard to make sure all children in our city and their families have food during this time.

We have always been about neighbors helping neighbors—and that is truer now than ever before. Our Board of Directors is matching every $1 donated through April 17 with $2 of their own, up to $500,000, ensuring your gift goes 3 times as far."


CULTURE CORNER


Read

Meet Me in the Bathroom, Lizzie Goodman
Oral History
The Year of Blue, Yanyi
Poetry
The Woman Destroyed, Simone de Beauvoir
Short Stories


Connect

Watch TV alone, together using the chrome extension, Netflix Party.


Explore (Virtually)

Musée d'Orsay, Paris
"My favorite museum I've ever been to, best place to get ur French Impressionism fix" — Anna B


Angel's Landing, Zion National Park

"Like Yosemite, but in full color" — G


Listen


Music (easy listening while working from home)
Music for Plants playlist by helena.sophia on Spotify

Conversation

Boost your mood with this episode of the Happiness Lab Podcast - Coach Yourself Through a Crisis


Move

Stream this Williamsburg yoga studio to your living room. Goodtimes is offering class via Instagram live a few times per day. It's free to tune in, but they are asking for donations on Venmo at @goodtimes-bk


Cook

Stuck at home with only a few ingreds you don't know what to do with? Cookware company Great Jones, has a "potline" for cooking advice. Text your questions to 1-814-BISCUIT daily from noon-6pm EST.


Play

We're spending a lot of our time (read: all of our time) indoors these days. To keep us a little more sane, we just ordered one of Areaware's gradient puzzles. Get one of their brilliant puzzles here, gradient, pattern, or your favorite food.


Create

Brooklyn Public Library is running a 28 day creative challenge. By opting in via email, you'll receive a new prompt in your inbox every morning for about a month. Pay what you want, via a donation to the library.


BEST OF

This week we've rounded up our best NYC small businesses to support online. Read about our top picks here.


DINER REVIEW

Golden Diner
Chinatown, Manhattan



Our Rating: 4 of 5

When to get it (To-Go): Like everywhere still open in NYC, Golden Diner is operating on a pickup-only basis. Give these good people a call @ 917-472-7800.

What to order: Chicken. Katsu. Club.

What to know: Only go if you live in the neighborhood, keep your social distance!