Cool Friends: Katherine Lewin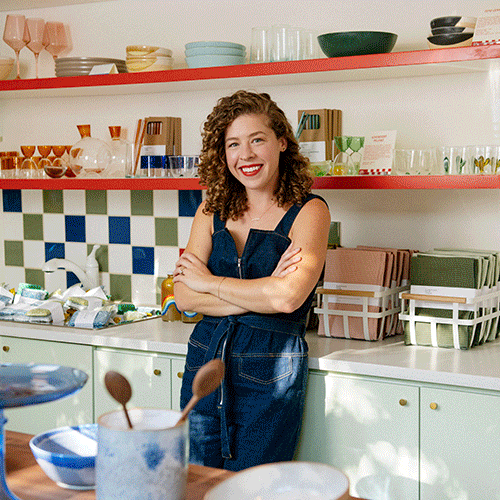 April 1, 2022

Meet Katherine, the founder of Big Night: a destination for everything you'd need to host the coolest dinner party for your friends. We caught up with Katherine to hear about how she founded Greenpoint's go-to spot for cooking inspiration.





How did you start your dinner & party essentials shop, Big Night?

I had known for a while that I wanted to make something "in real life" — something that people could see, and step into, and be a part of. But I didn't know for a long time what that was.

During lockdown, I saw people cooking more than they ever had in their lives. Suddenly everyone was learning how to make bread, or growing their own scallions, or trying to recreate a 1980s steakhouse vibe in their own apartment (or maybe that was just me?). And I couldn't stop thinking about how no one was able to have anyone else over to delight in the fruits of all that cooking labor.

Just like getting on a plane to go to Europe, or sitting at a restaurant bar and having a martini, having friends over for dinner was one of those magic experiences we were all collectively missing out on. I wanted to create a place that inspired people to have dinner (or brunch, or snack, or takeout and wine) parties again once it was safe enough to do so.

I envisioned Big Night as a one-stop shop – not just the place where you pick up the really good cheese and crusty bread and olives and tinned fish, but also somewhere you could find a special serving platter, and cheese knives, and the perfect little bowls for your olives and olive pits. My goal was for Big Night to be a place that makes everyone feel like, yes, they can host – and more importantly, like they can have fun doing it.

I've lived in Greenpoint for the better part of a decade, and knew I wanted the shop to be in my own neighborhood. The perfect space – tiny as it is, but with the biggest windows that let in all this sunlight – had been sitting vacant, around the corner from my apartment, for months. One day I called up the broker, and toured it that same day. By early summer, we were lucky enough to sign the lease, and I convinced a close and extremely talented friend of mine (Erica Padgett, of Decorum Design & Build) to help me renovate the space, and another (Mia Johnson) to help with Big Night's design and branding. Two months later, in late August of 2021, we opened the shop. Seven months later, I'm still pinching myself that it is, in fact, real.




What's your favorite part about the New York Creative community?

The sheer number of people making incredible things in this city. The shop has given me opportunities to work with so, so many people across New York City's creativity spectrum, from the people who helped bring Big Night to life (like Olive Panter, our sign painter), to designers who make beautiful goods for our dining table (like Sophie Lou Jacobsen and Fernando Aciar), to the people behind so many of the amazing, made-in-NYC food brands we carry (like Sol Cacao chocolate, Minnow tinned fish, Unified Ferments kombucha, Chili Cheeks chili crisp, and Trade Street Jam, to name just a few).


What's inspiring you right now?

Spring! Finally! The days that we can have our door flung wide open are the best days. One of my favorite things about running the shop is the constant energy I pick up on from people who walk through the door. With the temperatures warming up and the sun shining a little brighter, you can just feel everyone's moods lifting. I'm always inspired by my customers, and with the seasons shifting, they're cooking new things, redecorating their apartments, and traveling to new places. I love hearing about all of it.


Follow along:
@bignightbk on Instagram
www.bignightbk.com