Cool Friends: Todd Heim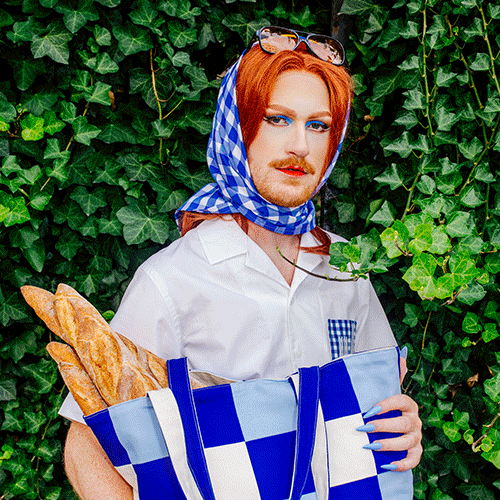 October 22, 2021

Meet Todd, the NYC-based art director who just launched the most fun food-inspired textile line inspired by his drag alter ego: Steak Diane. We fell absolutely in love with the debut collection, Fruits de Mer, and had to catch up with Todd to hear more about the inspiration behind Chez Diane. Grab a coffee or pour a Friday morning martini and have fun!




How did you start your career as an art director & textile fabricator?

My mom is an incredible seamstress and taught me how to tailor and pattern make when I was a kid. I moved to NYC right after high school and during my first year here a friend got a job as a nanny for a well known director. I started doing little sewing projects for her, then she recommended me to friends, and soon after, I had a robust backlog of sewing projects that hasn't really ever quit.

I've always been interested in art direction and image creation and kind of just started doing it on IG for my drag character Steak Diane. This led to connecting with people who were interested in the work I was doing and that, in turn, led to some very fun collaborations over the years.


Can you tell us a little bit about your new tableware textile line, Chez Diane?

Fruits de Mer is the title of the maiden home textile collection from Chez Diane by Steak Diane. The collection consists of placemats, napkins, coasters, market bags, and more, and will look equally chic on tables and arms from Manhattan to Marseilles. It's a love letter to the set table and all things shellfish, and each piece is made between NYC's garment district and the Chez Diane studio. The collection is available now for pre-order on my website, and will ship later in November in time for the holidays!




What's your favorite part about the New York creative community?

I love that in New York you're six-degrees-of-separation'ed from someone who's an expert in just about everything. There's such a wealth of knowledge and resources to assist with any project you might be working on.


What's inspiring you right now?

Currently reading Just Desserts: The Unauthorized Biography of Martha Stewart by Jerry Oppenheimer. It's so bitchy and deeply inspiring for my drag character Steak Diane, who at her core, is a grand dame hostess in the style of Stewart.

Follow along:
www.steakdiane.biz
@steakdiane.biz on Instagram