Cool Friends: Mickey Ashmore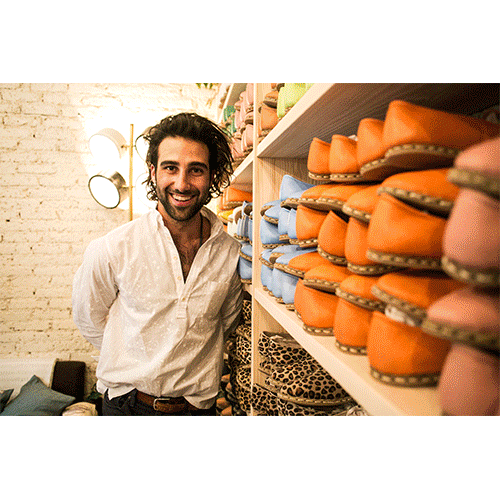 Meet Mickey, the globe-trotting, backgammon-playing founder of Sabah. We're huge fans of his handmade leather shoes (Sabahs are the Official coolstuff.nyc Footwear of The Summer™) so we caught up with Mickey to hear the story of how he became the coolest shoe seller in New York City.



How did you start Sabah, your handmade leather shoe company?
After graduating from college, I moved to Istanbul to work as an expat. While living there, I dated a Turkish woman. She gifted me a pair of very curious looking handmade slippers, made in the town where her family came from in eastern Turkey. I loved them. I wore them everywhere - to work, out and about on the weekends, and even once with a tuxedo to a fancy Turkish wedding. With their curled toe and patterned leather, this style of shoe was really a relic of the past, a style that wasn't part of modern Turkish dress. But I loved them - and upon moving back to New York City in late 2012, I kept wearing them around the city. But they weren't made from the best quality leather, nor of the sturdiest construction, and the sole was leather too. The city streets ate them up. So through my Turkish friend, I sought out the maker. His family had been making shoes since the late 1800's. He was one of the few craftspeople left making this style of hand-stitched shoe the old school way with integrity. It was as they say, a dying craft.

Through WhatsApp, I suggested he make me a new pair, but with a few modifications. No curly toe, no patterns across the top, and a few other changes to the silhouette and pattern, which I communicated using the Turkish I had learned while living in Istanbul. I then sent him a really high quality piece of black leather and asked him to add a rubber sole to the bottom of the shoe for better grip and durability.

A few weeks later, this pair of black slippers arrived to NYC. Unofficially the first pair of Sabahs. Everyone loved them. From there, I found myself gifting shoes to family, friends and colleagues. I called them Sabahs. The word "Sabah" means "morning" in Turkish. I just liked the word and I love the morning.

Finally, unhappy in my job and wanting to chart my own course, I put in an order for 200 pairs in a variety of colors & sizes. A couple months later, they arrived and I started selling them on weekends from my apartment in the East Village. The original Sabah House as I called it. And that was how Sabah was born… eight years ago. We still make every pair with the same family, albeit we've grown our workshop to now employ close to fifty workers and we have several Sabah Houses where you can come to get a pair. And the Sabahs themselves, they've been improved greatly too -- from producing our own leather to refining the production processes.




What's your favorite part about the New York creative community?
The variety, the talent level, the pace, and the constant influx of new people and fresh ideas. There is no stagnation in the New York creative community. Actually the exact opposite. So I'm always learning, which basically means realizing what I don't know, being proven wrong and expanding my comfort zone and appreciation for all types of things. It feels good to grow. In New York, you got to!

What's inspiring you right now?
Not traveling, and staying still. Which means, I get to expend less energy in the motion of travel, and have more energy, time and mostly presence of a clear, calm and rested mind to think, focus, and grow. That's been a big realization and a big inspiration for me - that you may & can grow more when you stay still than when you're in motion.


Follow along:
www.sabah.am
@thesabahdealer on Instagram