Cool Friends: Malia Polsky
Meet Malia, a Brooklyn-based ceramics artist whose line,

Rosemilk

, is somehow both fine art and extremely playful at the same time. We have a few rosemilk mugs and spill coffee all over these mini masterpieces on a daily basis.


How did you begin making ceramics?
I began making ceramics in early 2016. I was going through a really manic transitional period in my mid 20s and needed a productive hobby. I started taking classes at Choplet in Williamsburg and got really into it. Looking back, I wasn't very good at it, which is funny to me now. It took a long time for me to develop my own style, it was a lot of me trying to make work like Helen Levi or Josephine Noel. I think it's important, especially in a medium as oversaturated as ceramics, to know the difference between being authentic and being original. My work will never be original but I know it's not inauthentic. I did my first smiley face cup in 2017, it holds bobby pins and hair ties in my bathroom currently.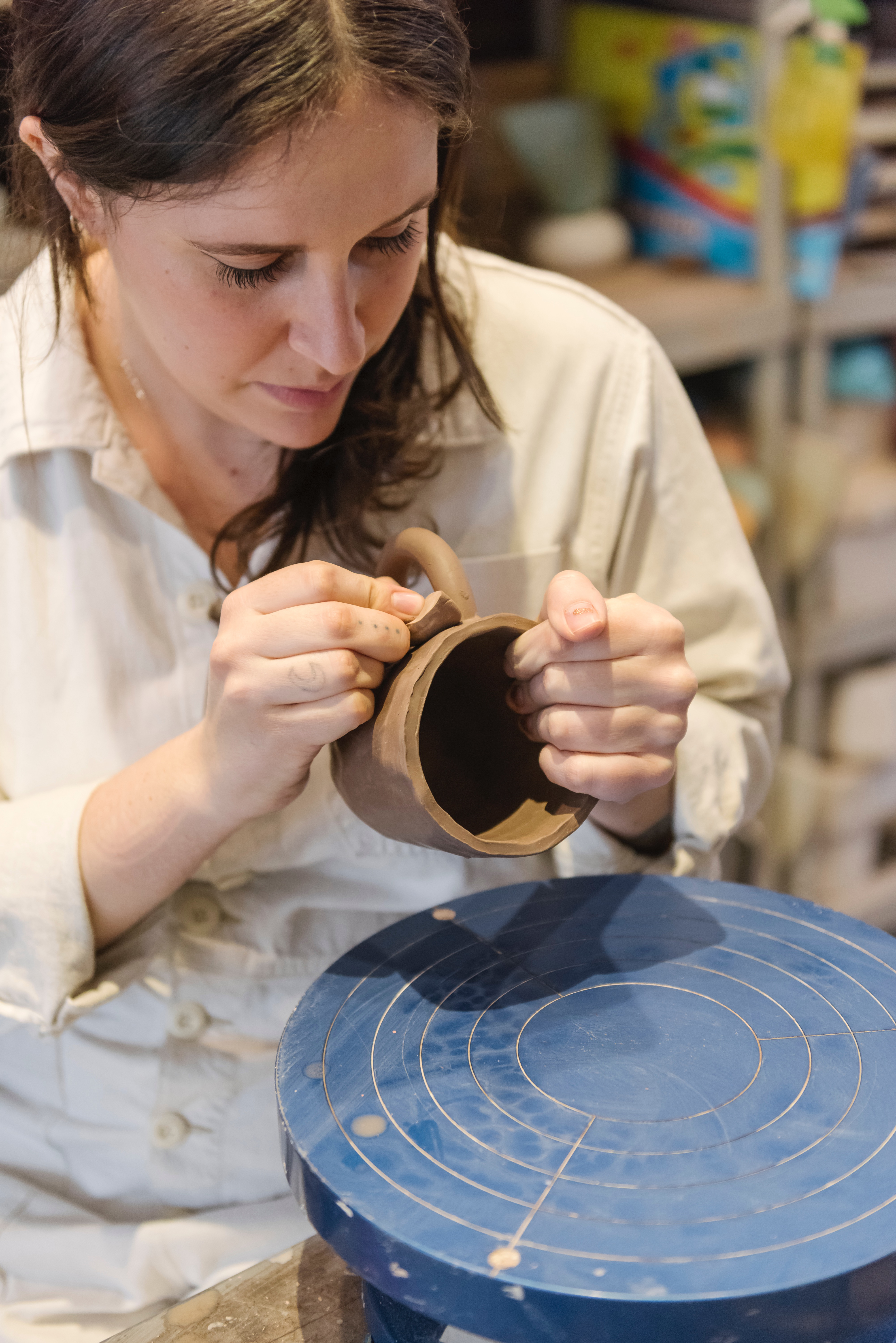 What's your favorite part about the New York creative community?
I think the best part about the NYC creative community is how expansive it is. There are so many incredible resources in this city. Ironically, not clay, the main distributor for that is in New Jersey. But just knowing that I have access to the garment district and diamond district feels really comforting to me. I have a lot of non ceramic ideas for Rosemilk and I know I'm in the best city to manifest them. Related to that, I've been able to meet so many cool people who work in different mediums who want to collaborate or help me learn a new skill. I'm optimistic about creative expansion and I don't think you can get that feeling from any other city.


What's inspiring you right now?
My students. Running Rosemilk is a full time job but it's not my only job. I also teach at a multidisciplinary fine arts studio called Created By Kids. I've been working there for about a year. Kids have the most raw, unapologetic creativity and I'm constantly inspired by the work they make. When you work with really young kids you sometimes have to help them manifest their ideas. My first miniature cowboy boot was made with one of my students over the summer. I just made a 3d dog last week with a student based off of their sketch that I want to put on mugs. It makes sense that I love their work so much because my early inspiration came from my old pottery from when I was their age. I have this chunky pinch pot with smiley faces all over it that inspired most of my contemporary work. So technically, Rosemilk started in 1999.


Follow along:
www.rosemi.lk
@rosemilkceramics on Instagram