Cool Friends: Edy Massih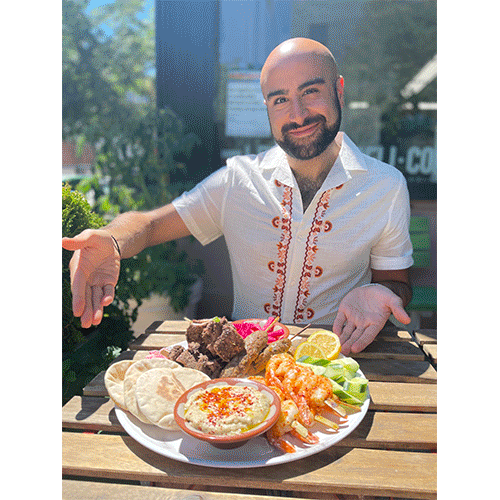 August 27, 2021

Meet Edy, New York's kindest grocer. There's something about Edy and his eponymous store that just makes you feel good. Born in Lebanon, Edy's shop brings some of the highest quality ingredients to Brooklyn (like beautiful olive oil that is actually fresh and green!) In addition to running the grocer, Edy is a private chef and gives cooking lessons from time to time. We caught up with Edy to hear more about what inspired our favorite place to shop in Greenpoint.



How did you start your Lebanese grocer & deli, Edy's Grocer?

After 3 years of having my own catering company based out of Greenpoint, I decided to move my cooking to a storefront when local deli owner (and my neighborhood friend) Maria Puk passed the keys to me after running her business for over 40 years! It was the perfect time to transition to something like this due to the pandemic, and I had always had a vision of bringing Lebanese ingredients, spices, and home cooking to my community since it's not really present in North Brooklyn. Making Edy's Grocer a market as opposed to a restaurant also allows the community to ACTUALLY cook with Middle Eastern ingredients, and get to know this beautiful cuisine on another level — which to me is everything that I could have wanted and I'm so grateful to be able to share my culture like this!




What's your favorite part about the New York creative community?

For the first time as a chef, and now small business owner, this past year of Edy's Grocer has really shown me the power of collaboration. It's been amazing to be consistently co-creating and working with other brands, businesses owners, and chefs to literally make magical things happen! For instance, when doing pop-ups with other chefs, it's been so awesome blending different cuisines on one menu — like Lebanese with Korean, or Lebanese and Filipino to name a few. It pushes you creatively, and also gives people a one-of-a-kind culinary experience which is insanely rewarding! This is a powerhouse with a city when it comes to creativity, and the more collaboration with Edy's Grocer that happens in the future, the better!


What's inspiring you right now?
After almost one year of being open, I'm finally going back to Lebanon next month to reconnect with the country, my family and honestly just get back in touch with my roots. This will, and always will be, my greatest inspiration — is sharing the joy of Lebanese culture, and my way just happens to be through cooking. I'm really looking forward to coming back with new intentions and being closer to myself, and applying that to our next year at the Grocer!


Follow along:
www.edysgrocer.com
@edysgrocer on Instagram